This was ridiculously simple, and I made it a two-evening long project. Pathetic? No. I think my over meticulousness on something as easy as this was good practice for the more challenging sewing projects I have on deck.
Last night I measured the crib, and did a mock up with some $0.50/yard white cotton. I just turned the seams once, left strings hanging, etc etc. Trevor liked it and the dimensions were right. Can't ask for much more!
So today, I busted out a flat sheet from Target. My family has an aversion to flat sheets, so we have plenty to go around. This one was hot pink, from my middle sister. I checked sizing last night, and I have plenty to do the sheet and the outside panels of the bumpers.
Today I slowed down, and took a long time measuring and ironing. I promised Trevor that I'm going to do things to the best of my ability from now on. Former projects were done haphazardly... not half assed, but once I hit the point of less than 100% confidence, I'd just rush to get the job finished.
Not tonight tho! I cut 5 panels:
2 of 19x29
2 of 19x53
1 of 29x53
I used the big panel as the anchor, so to speak, of the entire skirt. Basically, its the piece pinched in between the mattress and the springs, keeping the skirt in place. The four other panels were sewed to it, making a big cross, or "t". I left an inch on every side, and made some fancy, professional looking seams. Turned and pressed once, then turned again and did a simple straight stitch.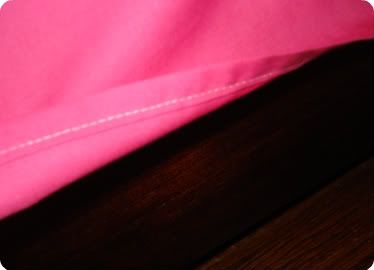 It wasn't until I was putting the skirt in the crib that I realized you only see one sewn hem, and one other panel, since the crib is place in the corner - but again, the meticulousness will pay off later. And I promised :)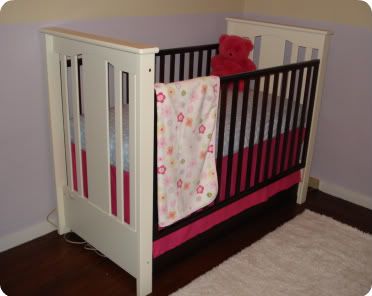 The bumpers will have the same pinks on the outside, and a still-to-be-decided contrasting/coordinating fabric on the inside. I'm going to go thru all the fabric I have and see if anything works with the other fabric/colors in the room - if not, I need to wait for a big sale at Hancock fabrics.
Oh, in other news, I finished the changing pad cover last night! The elastic was ridiculously easy to sew in. I owe a BIG thanks to
the girls at Prudent Baby
for giving me the confidence to jump in. And, of course, the Free Cycler from a few months ago that gave me enough notions to last a lifetime.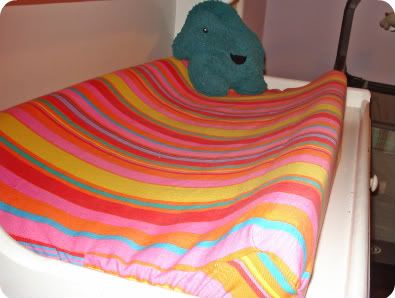 Now it's 1am, and I have heartburn, and work in the morning. I think it's time for bed.
:-)