This room is actually pretty close to being done. Amazing, because a week ago we were no where close.
Last week we made a big IKEA trip, and just this weekend I finished reupholstering the couch. This this was pretty gross before. When I got it off of FreeCycle, the potato sack fabric was pilling, and smelled strongly of the previous owner's dinner choices. Puppy wasn't a big fan, and pee'd on it whenever we left her alone for a minute. We washed it, but you know that smell never comes out.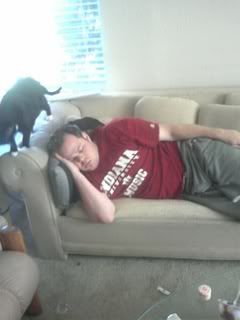 I kept telling Boyfriend that I'd reupholster it, but he was skeptical. So, once we got into the house, with a garage, I started tearing it apart. I changed the shape of the arms, and added batting and faux-suede fabric. Three weeks later, I was finished. I didn't have much time after work to work on it, so most of the work happened on weekends. It's not perfect, but we're pretty happy with my first couch.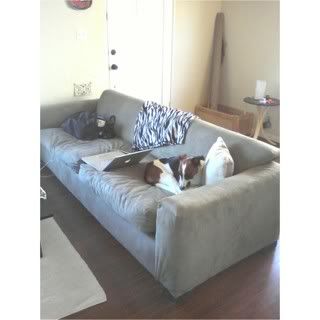 Then last Monday, after our big IKEA trip, Boyfriend "pulled the trigger" and painted our previously orange ugly wall a dark teal we had seen in one of the model rooms at the Big Blue Box. It took a while to get used to, but now as we add things in, it's absolutely perfect. Well, close to perfect. I wouldn't be here if the living room was 100% right now.
Before: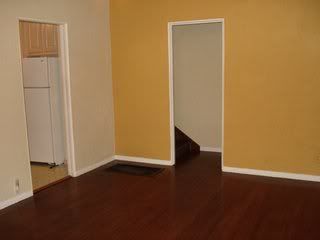 After (sorta):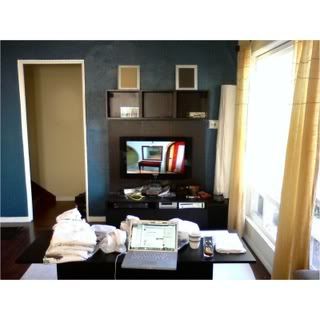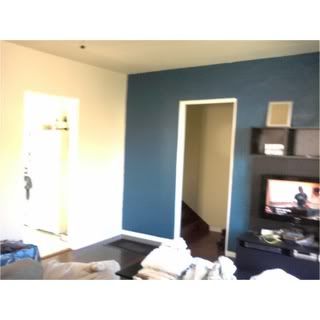 So, besides the area above the heater, which is pretty much dead space since you can't put anything over it (at least, during the winter. This might change in the summer), the cozy "living" aspect of the living room is done. Couch, coffee table, TV, bam. Done. Couple throw pillows, get some little knick knacks above the TV, and good to go. Don't judge me by my laundry.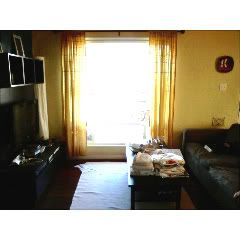 Now, there's two other wall spaces that need to be filled, and I have ideas for them. More of an "entry way" area, behind and around the couch:
Before: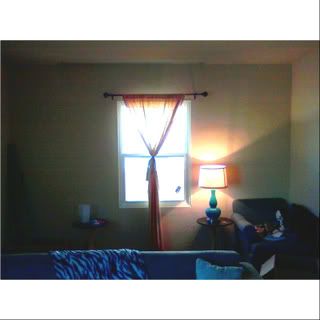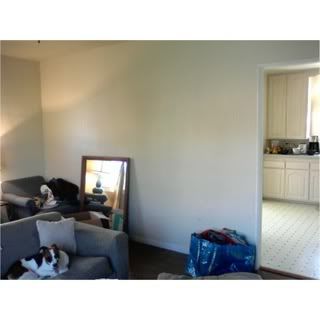 Hypothetical "after":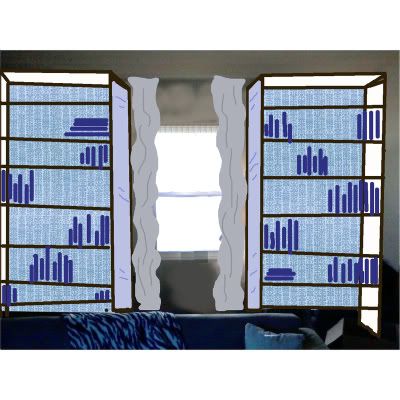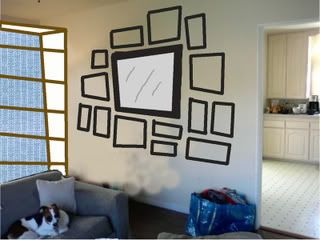 So, have bookcases lining the back wall, to feel like built-ins. Mirrors the length of the bookshelves to help the light from that window expand out (it's a north-east window, facing the neighbors. I need to squeeze out as much as I can get.), and then ceiling-to-floor light grey curtain panels to keep it light and airy. Same panels will be on the big window in the main living space. The blue behind the bookshelves is just an Ikea print that they have by the yard. I've always wanted to do that with a bookcase, and betting that I get the bookcases through freecycle or craigslists, they'll likely need that little bit of charm.
Then, on the wall between the kitchen, I have a big mirror I need to spray-paint, and then we'll surround it with random size frames, keeping most of the pictures black and white, a couple color images, playing with the mat size, IE small photo, HUGE frame, or keeping the frame right on the image, no mat.
Now, to convince the Boyfriend.