Anybody know where I can get a good tutorial for making a changing pad cover? Mine has contoured sides, and the cover that's on their currently has elastic along the bottom. I suppose I could do it without the elastic, and just use some velcroed straps or something.
BUT I've promised Trevor that everything I make for the room will look as finished and professional as possible. So any help is appreciated :) I know I can tear apart the current one, and use it as a template for the majority of the piece, its just that finishing fitted touch that only our dear friend elastic can bring.
I'm going to use the same fabric from that first baby blanket for the cover, and then for the rocking chair as well.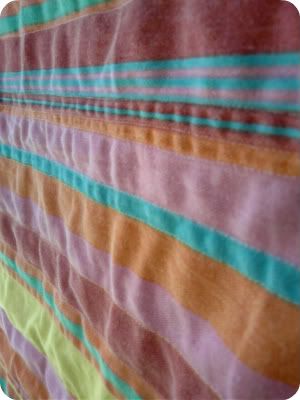 They're across the room from one another, and separated by lots of white furniture, so I think we'll be okay. And then, I'll use the remaining bits of it as the piping along the edges of the bumpers (using my favorite tutorial from
Sew4Home
), and maybe some scraps in the crib quilt as well. That way it's cohesive, but not too overwhelming. It is a pretty stinkin' bright fabric. The rest of the fabric used in the room is going to be pretty simple pimple. Maybe some sort of graphic floral for one side of the bumper, but a chill polka dot on the other. Or chill polka dot on both sides. Who knows. We'll see.
This reader-submitted version from the Sew4Home site is more up my alley: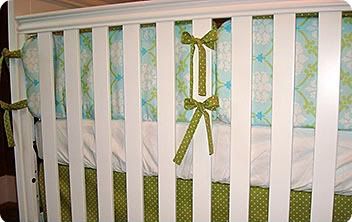 Also! I've decided on the window treatments. Instead of curtains (which I'll have to hang new hardware for), I got some suede roman shades from FreeCycle, that I'm going to just put new fabric right on top of. That way, the suede acts as a black out when we need to have her go nappy, and I can still have something fancy and pretty facing into the room.