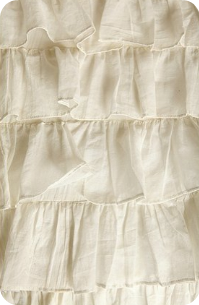 The more and more I think about yesterday's post, the more I HAVE to make a duvet cover.
It's between the two Urban Outfitter knock offs I mentioned,
Waterfall Ruffle
, and
Tuxedo Ruffle
. Both look deceptively easy, but so so cozy. Technically, the Tuxedo version is a quilt, but I'm sure it'd look fine as a duvet cover, right? And if not, I can always rip out the seams, and insert a batting.
Either way, I need to bone up on my ruffle skills. I love either version in a grey, ooh, or maybe a light turquoise. Something muted, almost neutral, so I don't get sick of it so fast.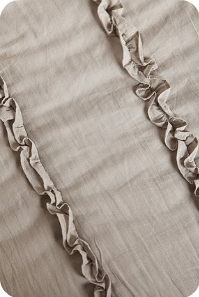 Does anybody know of a great tutorial on how to make a duvet cover? I've considered putting two flat sheets together (I've already mentioned my family's aversion to them), but I'll easily need more than 2 sheets if I want all the ruffles to be the same color.
PS. I need to redesign this blog page. It's boring the heck out of me.