My bedroom depresses me.
Okay, not TERRIBLY, but its definitely one of the most sparse rooms in the house, and since it's not pretty, it often becomes a 15x12" laundry hamper. So then, I have nights like tonight, when I spend hours picking up dirty clothes with a baby strapped to my chest. (Let me tell you, my thighs are KILLING from the careful squats to pick things up without waking her!)
As you may know, I work best off of lists. So, a list of design ideas for our bedroom, to be bought when I have the money, or to to be recreated with crafty flair when I don't. (The latter is more frequent.)
Jewelry Storage
Gorgeous, hmm? I've been spending a lot of time up in my bedroom this evening, purging and organizing, and I came to the realization that I definitely need some sort of jewelry display. Too often necklaces end up in my undie drawer, and become tangled and broken. The picture above is from
Design*Sponge.
Who wants to buy me a jigsaw for my birthday?
I've seen variations on the
framed jewelry board
too, and if I found a particularly special frame, this might do. But, it does seem somewhat busy if you have a TON of jewelry, which I do not.
Then of course there is the ultimate lazy DIY version.
Bedding
Since we've lived together, our bedding has been cheap Tarjay/Walmart separates combined with retired duvet covers from my mom. Once, we stood in front of the wall of duvet covers at Ikea, and picked the most neutral one up there, because everything I wanted was too girly, and everything he wanted was too masculine. Ooh, grey tonal blocks. Exciting.
Ultimately, bedding is what truly makes a bedroom. It's the visual centerpiece that beckons for you to come spend more time between the sheets. Ooh, look how cozy I am. Come cuddle.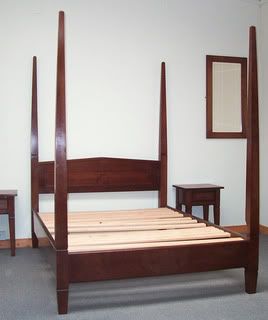 We currently have a dark cherry four poster bed, that's super high. Another mom handmedown, but it's a grown up step up from our previous Craigslist Ikea Malm bed. It's pretty similar to the photo, but the headboard is round. And it's up against our big window facing the street.
This
ruffle duvet cover from Urban Outfitters
looks like a great base to a cozy, dreamy bed. But for $128? Mmm, not so much. Broke, remember? This could be a great DIY project, however. My first sewing project was a bag similar to this. Same thing for their
tuxedo ruffle set
. Something textural and neutral, with awesome throw bright pillows. Yes please.
I'm also thinking I need to rearrange the room. With the bed in front of the window, we pretty much always need to keep the curtains drawn, which even with white curtains, makes our dark room even darker. I think I should finish Trevor's nightstand too. That thing has been sitting stripped in the garage for months now. Now if only I had the time to do any one of these things!