You know, if Machete = WeedWhacker. And in this case, it does.
Remember how overgrown my backyard was
a few months ago
? Here's a reminder: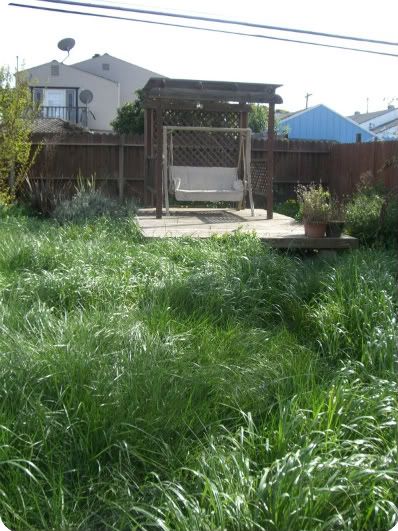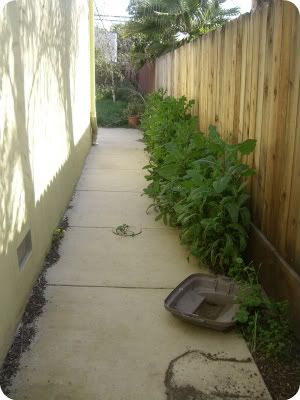 Well, being that I took those pictures exactly two months ago today, the yard had grown a bit more. So add a good two feet onto everything. I meant to take a picture this morning, but forgot because I only had a limited amount of time to be outside (but I'm sure shame played a small part in that oversight).
In an hour, I yanked out a bunch of weeds, and weedwacked the entire lawn. Since everything had pretty much turned into a nature preserve, at times I was concerned about a possible attack by a snake, possum, or particularly violent mama bird. But, I made it through unscathed, and have now defined where the lawn previously existed.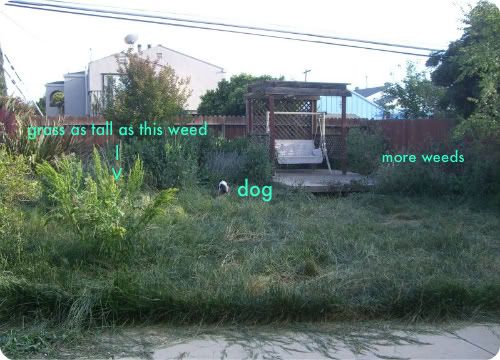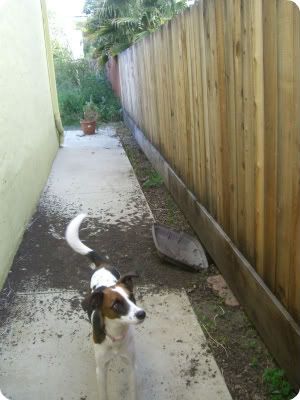 Isn't she helpful? Thought she'd do some digging to remove some weeds.
I left all the tall weeds in the lawn area for another day. Reason 1: The pansy .065 trim line I bought couldn't handle 1/2" stems (trunks?) Reason 2: Even if I did hack them down, our mower couldn't handle the leftovers.
So, here's the plan of attack to get this yard in BBQ party shape:
1. Pull out ALL the weedtrees. On the side of the house (behind my garden patch), within the lemon tree, in the "lanscaped" area behind everything, and on the right side of the deck.
2. Mow lawn progressively shorter and treat with turfbuilder w/ weed control and water the heck out of it.
3. Prune back lemon tree, monster lavender and palms.
After that, I should be left with a clean slate to "decorate". We'll talk flowers and groundcover and sun shades then.