I decided on no Christmas tree this year. With the baby coming, our tiny living room, and relative staying with us in that tiny living room after that baby is born, it just seemed like far too much of an undertaking. I do all the day-to-day maintenance cleaning in the house, and my tired 39wk pregnancy body was not looking forward to sweeping pine needles every day.
Well, I fear I broke my boyfriend's heart. He's a big kid, really. His normal tough-guy bravado melts at the sight of Disney Christmas specials, the taste of peppermint ice cream, or the smell of pine. So when I laid down the Christmas tree law, any enthusiasm for the season seemed to fizzle out of him.
Personally, I left work two days early for mat leave, and am now 4 days into my indefinitely long 'weekend.' Last week we had what we thought were progressive contractions, and expected a baby by the weekend. (Doc's exact words, 'we'll make an appointment for next week, but I don't think we'll make it.') Well, no baby, and I'm starting to slowly lose my mind. The rainy weather probably has something to do with it.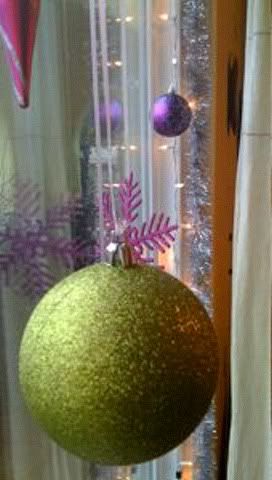 Either way, this little house needed some cheer. And, just because we don't have a tree, who's to say we can't be merry? So, I took a cue from store front windows, and made a nice little Christmas display out of ornaments we bought 3 yrs ago.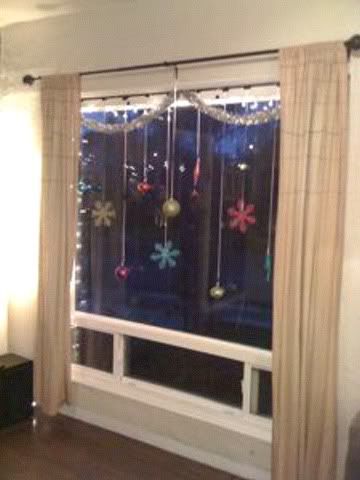 I'm planning on recreating the same thing in our street-side bedroom window, then hanging some lights outside (once it dries a bit, and my chances of electrocution or falling lessen.) Also planning a
holiday card display like CensationalGirl
in our stairwell. But for now, those can wait. I know Santa Trev will be so excited when he drives up late tonight to a festive, glowing home. Even if there isn't a newborn in it yet. :)