I found my inspiration, and I guess I need to quit complaining about pink.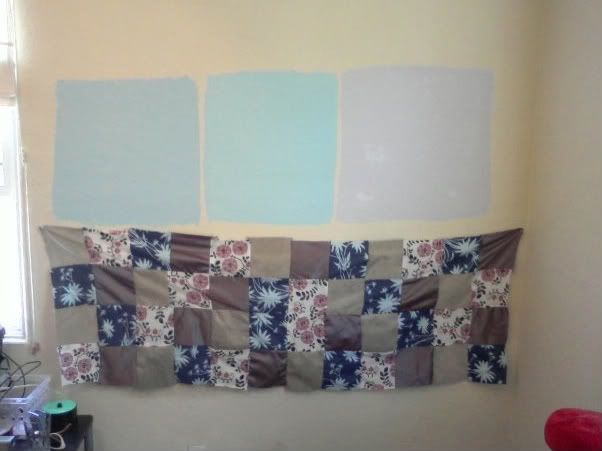 Ocean Breeze, Blue Flower, Lavender Ice
Duh. I started that quilt pretty much when I found out I was pregnant, assuming it was just maternal/MarthaStewart type instincts, but I guess I always knew I was having a baby girl.
I think we're sold on the purple, this picture doesn't *quite* do the colors justice. What do you expect from cellphone cameras? But, it pulls out all the colors from the quilt. What you can't see here in the white floral fabric, is in the middle of the purple flowers, there's a little dot of dark hot pink. My mom *just* bought some storage for Delaney's closet in that same color, and I've been trying to figure out why the color resonates so well with me. I'm not a "pink" girl to say the least, but for some reason, I keep coming back to it.
Then, I went down stairs into the mancave to find something, and there she was. Mama Bear. My childhood stuffed animal, that I loved to death, and of course, she's this exact color we're talking about. So, it's all making sense now. Of course, when I go back to look at the Heather Ross Mendocino fabric I listed in the
first Baby Girl post
, they tie in perfectly with my blues and purples and hot pinks. I'm a genius, swear.