So, I've got a modern/contemporary style, right? Clean lines, IKEA fan... I mean, hello, when we first found out we were having a girl, I automatically put a kibosh on light pink frilly crap. Bassinets and all their accouterment usually fall into this category. However, we do need one for a few reasons:
A - I have a very cuddly fat cat, and having the baby 20ft away in her own crib, I'd be
worried
that Boner would be in there with her before she's ready.
B - It's very chilly in our 1934 rental during the winter, and rather than leave a baby in her
own room with a space heater, we can just heat our bedroom for the 3 of us. (okay, the 5 of
us when you consider the dog and the previously mentioned fat cat.)
Luckily, we found a PERFECT one at Babies R Us, and promptly put it on our registry. 
It's from Kidsline, part of the Jungle Pop collection. It like the clean lines, the lack of frill, and the neutrality of it. We are planning on another baby eventually, and this stuff isn't cheap! Okay great, perfect, and it goes with our modern crib, scan the item, walk away.

Yeah. All peachy keen until we get an email from Babies, saying it's been discontinued. Angry! Our local one doesn't have it in store (I have a feeling the father that bought the floor model of our Amy Coe crib the first time we were there also bought this from under our noses.) There are about 20 in the Bay Area, even if Modesto is REALLY Central Valley.
So what's a girl to do? There is seriously NOTHING comparable in price and design on the market. Whatsoever. I've looked for hours on end. If I had an extra grand lying around, I might buy the Offi Nest: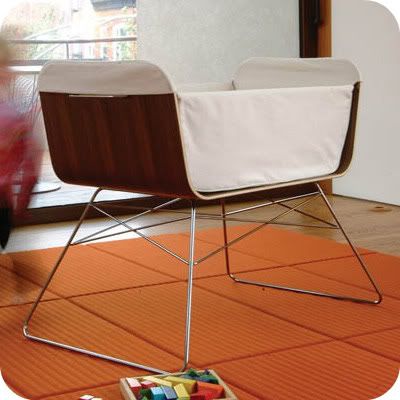 But seriously, if I had a grand lying around I would, you know, pay my rent?
So the search continues. It's not like we have a baby due in 49 days or anything.