*disclosure* I haven't figure out how to add a "click thru for more!" link. So, you're just going to have to read all the way thru. :D
Okay, well. I might have embellished a *little* bit. Today we were PLANNING on painting. We went to Home Depot, got the paint, cleared out the room, and Trevor taped off the room. But, just as we were about to get brushes and rollers out of the plastic, Trevor got called into work.
I mean, work is good, especially with me having faux-swine flu all week. Any, he normally works Saturdays, so meh. We'll paint tomorrow morning and let it dry the rest of the day after he leaves.
We are sticking with purple, as I talked about
here
and
here
. Except, instead of keeping the cream on the bottom, we're going to do the whole wall in purple, and do a wide white stripe across the middle of the room. Somewhat like this:
But reversed, obviously, and with purple not green. C'mon, you're imaginative people, right?
We've also purchased (and are anxiously awaiting) our crib and bassinet. They're different than what we were originally considering, but after getting the rocking chair and dresser/changer for free, we changed our plan a bit, and are just as happy about it :)
Crib:
Baby Mod - Roxanne
Bassinet:
Angel Line Gliding Cradle and LoveSeat (in white, not the wood tone)
Dresser and rocking chair (and camera hog AllieDog running in for the shot):
The dresser is a handmedown from my good friend. We're going to change the knobs into some brushed aluminum square ones like these:
The rocking chair you've
seen before
, after I recovered it in that Joel Dewberry fabric. I admit, I did it in the blue when I was hoping that it was a boy... now with our colors the light purple and hot pink, we're going to recover it again. I only need a little bit, so maybe some fancy stuff from Etsy?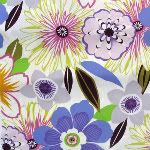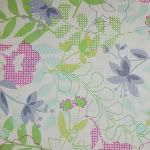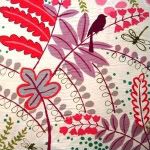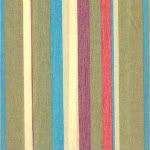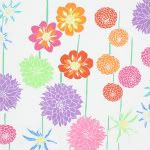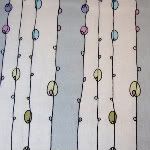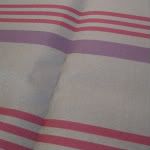 Oh, and we've figured out our "theme". I put it in quotations, because it's just a super lose theme. It's "air and sky". Sorta. Hah. Like, we're incorporating it more in the decorative details than in her bedding and stuffed animals. And we're obviously not painting a huge blue sky mural on the wall or anything! Some items we want to use:
Papillon Butterfly Wall Art
Hip in a Hurry - 13" Clouds
18" Custom Name Decal
Sweet Dreams Letterpress Poster