After some discussion with Trevor, we decide to not do the ENTIRE room in the Lavender Ice, mainly because it might be just too much. So, we're going to fake a chair rail, and paint a thick white stripe around the room, keeping the creamy-butter color on the bottom, and putting the purple on top. I actually really like the idea, so I promised him I'd get a blog up demonstrating the beauty.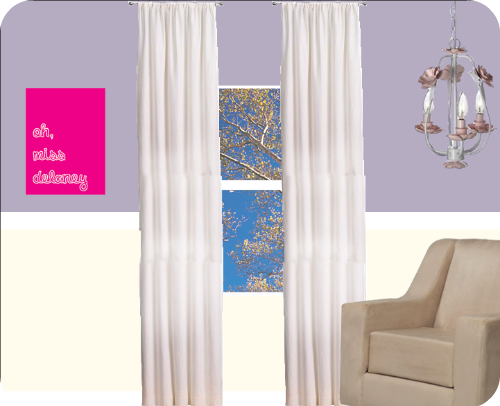 Love photoshop, lol.
So, the pink "oh miss delaney" box is
this DIY project from Design Sponge
, making a nightlight out of a stretched, painted canvas. The chandelier is from Target, and the glider is
my dream chair from Babys R Us.
Too bad it's like $400. :( If I don't get it, I'm still perfectly happy with the rocker I re-did, I just love the modern lines, the comfort, and the fact that it's called "Marshmallow".
Emmalie and I spent 5 hrs baby shopping in Marin today, and I was SO inspired!
Giggle
had a TON of Dwell products (far too expensive) and I found a cute cute baby store,
Janie and Jack
, that was just clothes, but amazing adorable. I found a
sweet hot pink hoodie
that I almost bought full price until my dear friend took it out of my hands. (Part of their Parisian Park collection. I made up for it for getting $100.99 worth of infant outfits for $15 at Macy's.
I decided I want to change our bedroom, the light green on the wall, and the dark green on the ceiling are bumming me out. I think I'm going to use the different shades of grey, creams, and light purples from the
Crow baby shower invite
in there instead. I'm so drawn to them!
Right now tho, I'm pooped, and I still have a flea bath to administer and dishes to wash. Trevor James will be home in 2 hrs, so I guess I should get started. After Dear Genevive, swear.