Awesome. Add another project to my "completed" list.
Remember
this post
? In about 4hrs total, I tore apart a favorite old sweater, combined it with some FreeCycle neon-pink stripey fabric, and made a little baby blanket. I do mean little, it's like 22x32 inches, thats all the usage I could get out of the sweater. Sure, there was the option of finding other sweater material, but I was determined to finish this, and wanted just the old pink one as the cuddling side.
I started with this sweater, from Tarshay 2 yrs ago. It doesn't fit anymore, and is long misshapen from Trevor doing laundry. Oops. (This picture makes it look more neon than it really is, bad lighting and still no digital camera. Birthday is only 1 month away!)
I pieced it together, specifically keeping some ribbing on there for extra interest.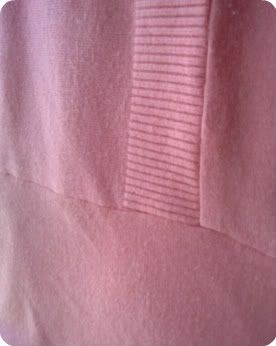 Then I used this FreeCycle neon-pink stripey fabric for the backing, and didn't put a batting between. I just hemmed all the way around, and turned it inside out. I was having enough issue with the sweater stretching, and the stripey fabric is a little heavier, so I figured it'd be good for a light blanket. I did quilt it, following the lines of the stripes for a guide, but randomly spacing the lines of stitching.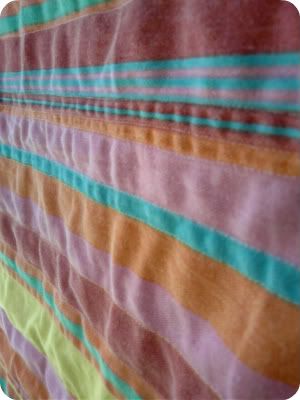 Voila!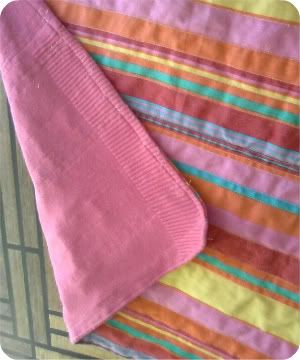 I haven't bound it yet, because I don't have any coordinating fabric at the moment, but I definitely will have to. There's points where the sweater stretched past the hem, and it looks messy, and a binding will cover that up nicely. Then, I'll also have a place to put a "to baby from mommy" message, or some other sentimental sappy momento. (PS, that cool pieced wood thing in the background is a table my grandpa made eons ago, from like 7 different woods. It'll find a place in my house eventually!)
Now, it's time to clean out the fridge, take out the garbage, and cut squares out of the finicky jersey I talked about
here
. I've decided to suck it up and finish. Nights are getting chilly in the North Bay!