It's a sad day today.
Apparently, Allie Dog is not adjusting to Trev's new schedule very well. She's alone for about 5hrs a day now, instead of Trevor being home with her while I'm at work, and it very upset with us, apparently. First, she's anxious and over-hyper when I get home, and then remains whiney all evening long, no matter how much love/food/potty time I give her. The worst?
She's started peeing on the couch again.
fhdklfhklsrhgklfahklgha
She used to do this when we'd leave her alone in the apartment, if we left her alone for too long she'd pee, because, well, she had no where to go. But now, it's like a deliberate act of defiance! I take her out multiple times during the evening, and one final one before bed. Last night, we went outside, went potty, then went to bed. an hour later, Boyfriend came home, and voila, pee on the couch. Wtf dog?
It's ONLY been the past two weeks when her schedule has been all jacked. I completely reupholstered the couch too, so it's like she's slapping me in the face. The interim solution is to close our bedroom door at night so she can't sneak out, and get new foam for the cushions, and throw the covers in the washer.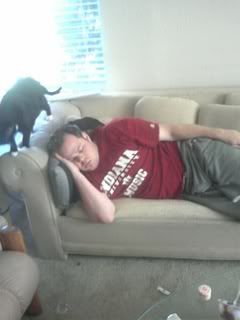 Before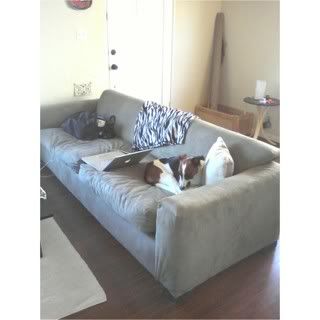 After (the late-night culprit, snoozing the very day I brought the finished couch up from the garage. My living room now looks much more pulled together than that chaos in the background.)
But, I fear the couch's life has truly come to an end, regardless. The other night, I lost my cell phone somewhere in the depths of the couch, stuck between raw plywood and the ancient mechanicals of the pull-out bed. My hand came out scraped and bloody from old staples and splinters and other nasty things. So, combined with the dog situation, and this, it's time for a new couch.
Luckily, I have some ideas. And, pretty much, Ikea is where I'm headed.
I like the Karlstad sofa, and it's honestly where I got the shape for my couch when I reupholstered/reconstructed it.
Probably, the white is too light for our lifestyle, but it it would certainly brighten up our living room. My plan is, of course, to get a slip cover, but then even put some sort of slip cover UNDER the fancy slip cover, maybe vinyl tablecloth-type material? Just in case the dog acts up, and then the cushion inside isn't compromised. Once pee gets inside a cushion, you're kinda SOL.
Ideally, we'd love a chaise add-on, but being that the chaise itself is the same price as the original couch, AND my living room is teeny, it's probably not going to happen.
Of course, this is all wishing/dreaming/hoping until we get our car payment taken care of next week, and then we have some bills to handle that were put on hold while Trevor was unemployed, but soon enough we can have nice things. For now, Febreeze is my best friend. *sigh*
Next time I reupholster, I'm doing something smaller, and less used than a couch. Something like a decorative chair or something. Too much heartbreak when it's time to let it go.