Man. I wish I had my fancy digital camera so I could take some teasing photos.
Anyway, right now I'm working on a mobile, cut out a million stars from 20yr old paper swatch books I got from my mom a couple weeks ago. I love the different textures of the expensive paper, and sitting there cutting and pasting reminded me of when I was a kid, using those swatch books instead of construction paper.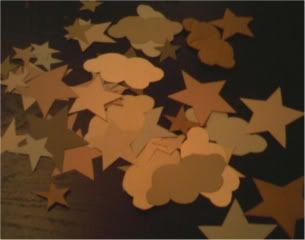 Also, I currently have some crazy neon pink striped fabric in the washing machine, a free-cycle gifty. I'm getting ready to tear apart my old pink sweater, and create a super simple baby quilt, just follow the lines of the stripey fabric. Guess it's time I learn to bind?
Trevor wants me to work on a blog of his - he's apparently taking full advantage of his flight benefits, and we're heading to every NHL stadium this season. I know, I know, I said "really, the same season we're going to have a new born?", but Trev doesn't ask for much, so I'm going to indulge him. Our 4yr anniversary was yesterday, and I'm still enamored with his spontaneity. So, he's blogging about his travels, and I'll need to help him with the blog design and such.
On that note, I think I'm going to major in graphic design. I've dabbled in English, Chiropractic, and business management, but nothing has stuck. So, I don't go to class, and just work all the time, haha. I've been immersed in graphic design my whole life, thru my mom. (She's a huge influence on my style and creativity, don't know if she knows) I get frustrated, because I'm not as good at is as I'd like to be. I can feel my way around the Adobe Suite, and PageMaker (from Journalism in HS) . It can only help me understand colors and form even better, and give me that daily creative outlet I'm desperately lacking at the moment.
Now I need to get off the computer, and work on that sweater-blankie project. I swore I'd complete *something* by the end of the night, and if tearing apart a favorite sweater is the one thing I accomplish, so be it!