So, I'm distracting myself from work woes tonight with home decor. I've found some super easy quilts recently, and have been saving everything as a link on Facebook. I still haven't finished the quilt hanging up in Delaney's room, when I told Trev I might just turn it into a baby quilt, he got all huffy, "That was supposed to be a cuddle quilt for us on the couch!" What a sweet boy :)
I have to admit, life is pretty stressful right now. It feels like every time we take a step forward, we have to take two back. Anybody know me from a past life? Maybe I was a jerk, and I'm just working off that karma, hah. Anyway, I need to just focus on things I can control, like an easy quilt :)
I've found some recently that look fun and simple... last thing I need is more stress!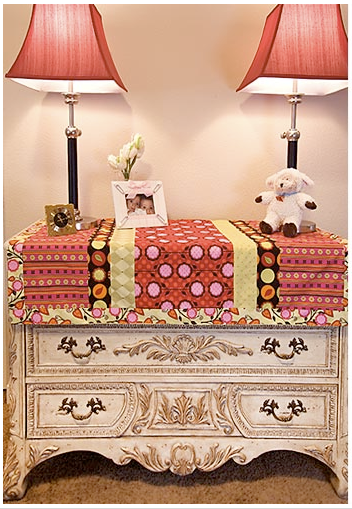 Their color situation is super busy, and far too bright for my taste, but it's definitely quick,  and could adapt to a larger quilt very easily. They didn't do any actual "quilting", which leaves the door open for interpretation. 
This is one of the first quilts I saw on
AT
when I got on this design kick a few months ago. I still love it, and while it's definitely not "simple", all the pieces are the same size, which means I could make a template and be done with it.
Purl Bee recently featured
Last Minute Patchwork and Quilted Gifts by Joelle Hoverson
, which was one of the 4 books I picked up from the library when I saw the quilt I talked about above. This color wheel quilt is PERFECT, and, I can get all the supplies for $72, to make the massive quilt. LOVE it! This is something I'd make for myself, or even for my mommy, a graphic designer, from the days of REALLY cutting and pasting.
First of all, this quilt brings memories of that Dashboard Confessional album, and the song "The Mix Tape" by Jack's Mannequin (the artist formerly known as Something Corporate, who also wrote"Miss Delaney", where we got Baby's name from), AND it's super graphic and fun, and I love the idea of doing a quilt like this, something SO not traditional.
This one is awesome, of course. The applique brings me to something else...There's another one I've been searching the internet for, because I guess I didn't link it on
Facebook
the first time I saw it, but it's the easiest quilt, with the most impact, I've seen. Basically, the artist took a graphic fabric, orange flowers on white, and combined it with a simple white fabric, and made the flowers originate in a corner, then scatter across the rest of the quilt. They cut out the flowers, and appliqued them on the rest of the normal white fabric in a random pattern. Then, quilted around the flowers on the original fabric. Very fancy. Anybody know what I'm talking about??