Oh yes, I'm going to do two posts in one day. That's my little gift to all 3 of my followers who have been patiently waiting for a new post (or, who just forgot about me in my personal chaos.)
I was reading thru
Prudent Advice for my Baby Daughter
today, after stumbling on the sister blog,
Prudent Baby
. (Like the plug, ladies?) In between #202 and #201, I found this picture: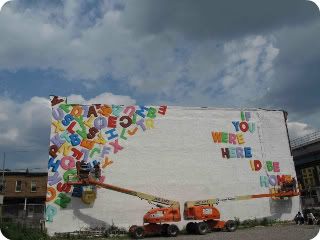 I like the idea of scattered colorful letters appliqued on white, with a little love note to replace the emo sentiment on the right. Something like "I love you" or "You are my sunshine" or "mommy's scared to death, but she's going to do her damnedest to raise you right."
I've been wanting a hanging quilt for her room, and this one brings in the alphabet aspect I wanted, along with the typography print I've been looking for. I think it's perfect. AND, I really don't have to do any QUILTING, persay. No patchwork, just appliquing the letters on, but if I sew thru the quilt sandwich, it'll hold together.
Yes. Pretty much feeling like a genius right now.